The Celtic Episcopal Church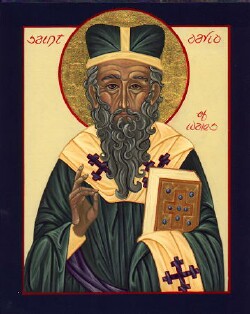 Saint David of Wales
Patron Saint of The Celtic Episcopal Church - Feast Day March 1st
As with many historical figures, there is little factual information available about St David (or Dewi Sant as he is known in Welsh). Most of what we do know comes from an unreliable biography written in about 1090 by Rhygyfarch, son of the then Bishop of St David's.
David was born at Henvynwy, Cardiganshire at some time between 454 – 542 AD. His parents were Nonna, daughter of Gynyr of Caergawch and King Sant, son of King Ceredig, and it has been suggested that he was the nephew of King Arthur.
He was baptised at Porth Clais by St Elvis of Munster and even at this early stage he was linked with miracles when a blind man was cured by the baptismal water.
His early education was received from St Illtyd at Caerworgorn in Glamorganshire following which he became a priest and spent 10 years studying at Ty Gwyn, under St Paulinus before becoming a missionary and embarking on a pilgrimage through South Wales and the West of England. He is said to have founded or restored 12 monasteries, including Glastonbury, Bath and Leominster, before settling at Menevia (St David's) in South Wales, which was known for its strict asceticism of its rule, based on that of the Egyptian monks, with only one daily meal and hours of unbroken silence.
During a pilgrimage to the Holy Land, David was consecrated as Bishop of Menevia in 519 by the Patriarch of Jerusalem, John III, and on his return to Wales he was named as Archbishop of Wales at the Synod of Brevi (Llandewi Brefi), Cardiganshire in 550.
David died in either 589 or 601 at Menevia and was buried there. However, in about 966 his remains were taken to Glastonbury.
Many miracles were attributed to him with the most notable being that he made the ground rise underneath him whilst preaching at the Synod of Brevi so he could be seen and heard by all. It is also said that, at his succession, a white dove was seen to settle upon his shoulders as if it were a blessing. This is why he is usually represented standing on a hill with a dove on his shoulder.
Another legend is that, during a battle against the Saxons, David advised his soldiers to wear leeks in their hats so that they could easily be distinguished from their enemies, which is why the leek is one of the emblems of Wales.
In 1120 David was officially recognised as a saint by Pope Callistus II. Following this he was declared patron saint of Wales and his feast day determined as 1 March.
And it is now declared that Saint David of Wales will be the Patron of The Celtic Episcopal Church to be celebrated on 1 March as is done throughout Chrisendom. Saint David is a fitting patron due to his holiness of life; love of the monastic rule, following that of the Egyptian (Orthodox) Monks; being a Celtic Archbishop; and being consecrated by the Patriarch of Jerusalem ensuring a close tie with the Holy Land and the Old Testment Jewish fathers and patriarchs.
The Opening Prayer and scripture readings for the Patronal Feast of the Celtic Episcopal Church are as follows.
O Almighty God, who in Your most Holy providence chose Your servant David to be an apostle to the people of Wales, to bring those who were wandering in darkness and error to the true light and knowledge: Grant to us in The Celtic Episcopal Church so to walk in that light, that we may come at last to the light of everlasting life; through the merits of Jesus Christ Your Son our Lord both now and forever, and to the ages of ages. Amen.
The Epistle. Ephesians 2:4-10
The Gospel. St. Mark 4:26-29